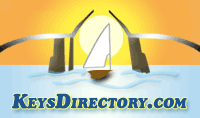 Accommodations in
the Marathon Area




9 accommodations, presented ALPHABETICALLY

CLICK on any accommodation provider's name below
for a full presentation with photos, rates, directions, etc.


ALL PROPERTIES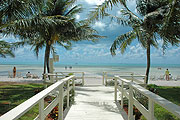 Casa Del Sol Beach Resort
(Mile Marker 58.2, Oceanside)
58182 Overseas Highway
Marathon, FL 33050
Phone: (305) 743-0533
Reservations: (800) 274-9949
This Superior Small Lodging (SSL) beach resort hotel is 50 miles north of Key West and 50 miles south of Key Largo and just a 90 minute drive from Miami International Airport.

We overlook the beautiful aqua waters of the Florida Keys. The property is surrounded by lush tropical landscaping, coconut palms, colorful tropical flowers, and a pristine private white sandy beach.


---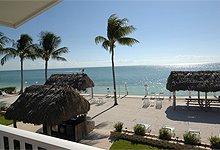 Continental Inn
(Mile Marker 53.5, Oceanside)
1121 West Ocean Drive
Key Colony Beach, FL 33051
Phone: (305) 289-0101
Fax: (305) 743-8150
Reservations: 800-443-7352

AFFORDABLE oceanfront condos - white sandy beach!
Relax in our affordable condos directly on the Atlantic with private sandy swimming beach!  One and two bedroom units with kitchens, maid service, freshwater pool; restaurants, golf, parks and marina nearby.  Discover our tropical island Inn connected to Marathon! You'll love our oceanfront family resort.


---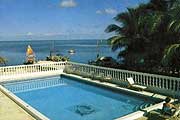 Gulf View Waterfront Resort
(Mile Marker 58.5, Bayside)
58743 Overseas Highway
Marathon, FL 33050
Phone: (305) 289-1414
Fax: (305) 743-8629


Picturesque 11-unit Waterfront Resort
Guest rooms, 1 & 2 BR apartments. FREE use of paddleboats, canoes and our very own putting green! Enjoy our pool which overlooks Florida Bay, and enjoy the sunsets over water in the evenings. A secluded setting. Rates from $69 - $138 depending on the season and the type of accommodation.


---
Hawks Cay Resort
(Mile Marker 61.0, Oceanside)
61 Hawks Cay Blvd
Duck Key, FL 33050
Phone: (888) 395-5539


5 restaurants. 5 swimming pools - a true resort !
60 acre island resort featuring hotel rooms, suites and 2 bedroom waterfront villas. 85-slip full service marina, 5 swimming pools, 5 restaurants, live interactive dolphin programs, kids clubs, tennis, and a variety of water activities. Very extensive website with streaming video and detailed activities info. Internet specials!


---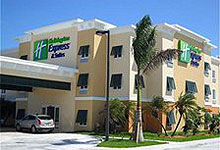 Holiday Inn Express & Suites

(Mile Marker 54.0, Oceanside)
13201 Overseas Highway
Marathon, FL 33050
Phone: (305) 289-0222


Directly on the water - GUARANTEED lowest rates!
Brand new in the heart of the Keys, surrounded by family-fun attractions. Enjoy nearby Dolphin Center, premier beaches, parks, dive sites, boat rentals. Or stick by the pool after a fitness center workout and free hot breakfast. Pet-friendly and 100% smoke free.

You are booking directly with this Holiday Inn Express - GUARANTEED by Holiday Inn to be the LOWEST RATE.


---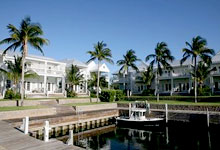 Indigo Reef Resort Villas & Marina

(Mile Marker 0.0, Oceanside, Bayside)
11600 1st Avenue Gulf
Marathon, FL 33050
Phone: (305) 390-2315


Hot Deals !!
Book here and save!
Escape the Everyday at this Florida Keys jewel! Located less than one mile from the Marathon Airport, Indigo Reef is a splendid combination of luxury resort accommodations and amenities. Come and enjoy private docks on the Gulf of Mexico! Indigo Reef Resort Villas is your ideal Florida vacation getaway in the heart of the Florida Keys.


---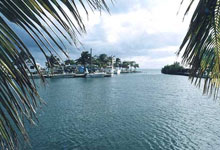 Knights Key Inn
(Mile Marker 47.0, Oceanside)
40 Kyle Way West
Marathon, FL 33050
Phone: (305) 289-0289
Fax: (305) 743-9203


Full kitchens! Closest inn to the Seven Mile Bridge
At Knights Key, we have 9 rooms and 6 villa homes. Rooms have two double beds, kitchens with full size refrigerators, stove and utensils. Villas are fully furnished 2 Bdrm, 2 bath homes with dockage on the Harbor. Enjoy the beautiful view of the Seven Mile Bridge every day. Immediate access to Sombrero Reef, Gulf & Atlantic.


---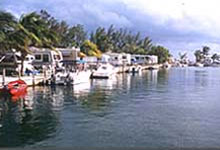 Knights Key RV Resort & Marina
(Mile Marker 46.5, Oceanside)
PO Box 500525
Marathon, FL 33050
Phone: (305) 743-4343
Fax: (305) 743-2907
Reservations: 800-348-2267

Oceanfront camping in the Florida Keys !
Our location makes it easy to reach the Ocean and Bay for diving and fishing. Swim, sunbathe, fish and watch the sun set from our beach. The Old Seven Mile Bridge is within walking distance of our park and has an area available for fishing. Boat tours to Pigeon Key Foundation and Marine Science Center leave from our docks on a daily basis. We are within 3 miles of shopping, dive shops, charter boats and boat rentals.


---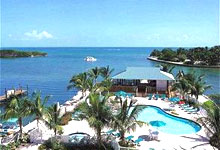 The Hammocks At Marathon

(Mile Marker 48.0, Oceanside)
1688 Overseas Highway
Marathon, FL 33050
Phone: BOOK ONLINE!


Offers beautiful kitchen-equipped suites!
The Hammocks at Marathon welcomes you with beautiful, kitchen-equipped suites and all of the amenities of the Florida Keys. Rent boats and jet skis at the marina, charter a fishing boat for a thrilling day at sea, or just relax by the pool and tiki bar overlooking the Gulf of Mexico.


---

Traveling elsewhere in Florida as well?
Here are some other sites that we publish. If you like
Keys Directory, you will also love these highly detailed sites:

East Coast Directory covering the East Coast of Florida.
Beach Directory covers the entire Florida Gulf Coast
All Orlando a great, small site for the Orlando area
123Florida.Com for ALL other Florida destinations

Want to receive more information via e-mail?
Click here to receive the monthly FREE Keys Directory newsblast on events, special deals, additions to our site, and much more !
---
Return to the Keys Directory main page
Entire site, © 1999 - 2019 Logical Sites, Inc.
Website terms of use, copyright notices, privacy policy and other legal notices