This section gives general information about Plantation Key & Islamorada. If you are visiting the Florida Keys, you owe it to yourself to stop and discover the unique atmosphere and wonderful wildlife that each area offers.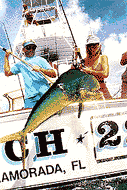 Islamorada, which means "The Purple Isle" in Spanish, was named by early Spanish explorers. Geographically, the Islamorada area consists primarily of, from north to south, Plantation Key, Windley Key, Upper Matecumbe Key, and Lower Matecumbe Key. Collectively, the locals call is "paradise".
More important than the names of the islands is the fact that Islamorada is mainly known for its world-class sport fishing. However, it also offers great scuba diving, other water sports, great restaurants and a real community feel.
Gene Hackman and former football coach Jimmy Johnson live here, as did Hall of Fame baseball player Ted Williams who began visiting Islamorada in 1943. For the next 45 years, Ted was the island's most well-known resident.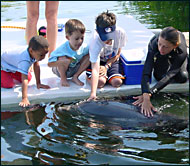 Theater of the Sea (MM 84.5 Oceanside) is truly a one-of-a-kind experience, and the main attraction in Islamorada. Children and adults can enjoy close-up encounters with a dolphin, a sea lion, and other aquatic animals. The animal trainers are very friendly, and take time to interact with kids during shows. The trainers also gladly stop for photos.
Our personal opinion is that Theater of the Sea is better than Sea World because it's a much more intimate and quiet experience. It is my son in the blue shirt in the picture on the right, which was taken a few yeara ago. But the good things at Theater never change, because they have been family-owned and family-operated since 1946 (!!).
What you get for the price of admission at Theater of the Sea is well worth it. If you want more, you can chose programs that involve swimming with a dolphin or sea lion or shark or stingrays. You can also wade with a dolphin, just meet the dolphin or sea lion, or even paint with the dolphin or sea lion.
Sea Turtles more of your thing? They have programs for that, too. In fact, they have so many animal interaction programs that it's hard to cover them all.
Programs are available daily and include admission to our dolphin, sea lion, and parrot shows, guided marine life tour, lagoon-side beach, and bottomless boat ride.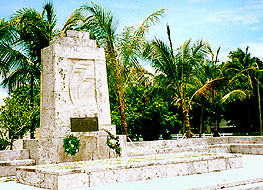 The Florida Keys Hurricane Memorial commemorates the almost direct hit by the Labor Day Hurricane of 1935, which caused 423 deaths. A memorial (pictured left), including the ashes of over 300 victims, exists today at Overseas Highway mile marker 82.